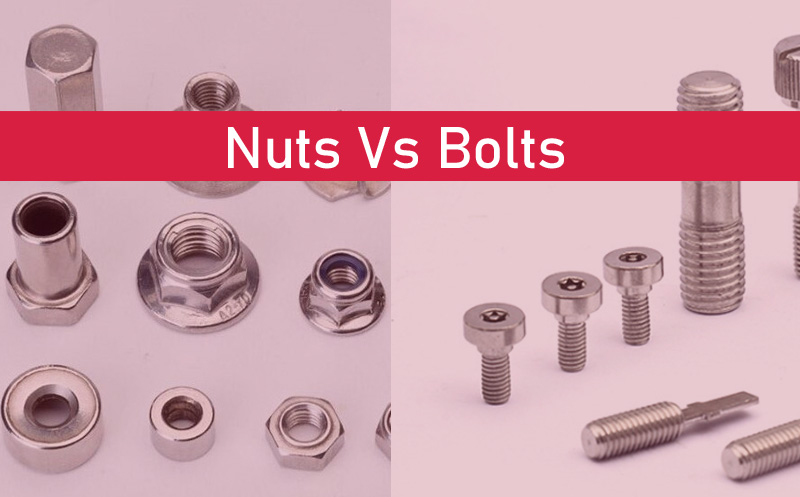 Nuts and bolts are essential fastening components with applications across all industries. Whether you're in construction, automotive, or machinery industries, you'll need to secure and keep parts intact. This is where nuts and bolts come in.
As you're reading this article, chances are there are a couple of nuts and bolts in your surroundings. For instance, your phone, tablet, or laptop is secured with these fastening devices. Further, your table, chair, or bench may have been assembled using nuts and bolts.
In this article, I'll cover the different types of nuts and bolts and share insights on how they work. I'll also discuss the difference between these vitally important fastening hardware.
Nuts are fastening devices with a threaded hole in the center. Their internal threads, also known as female threads, allow the nut to be tightened onto a bolt with the matching male threads. 
Nuts are always used with bolts. A nut and bolt pair securely joins two or more components together and makes it easy to disassemble parts when needed.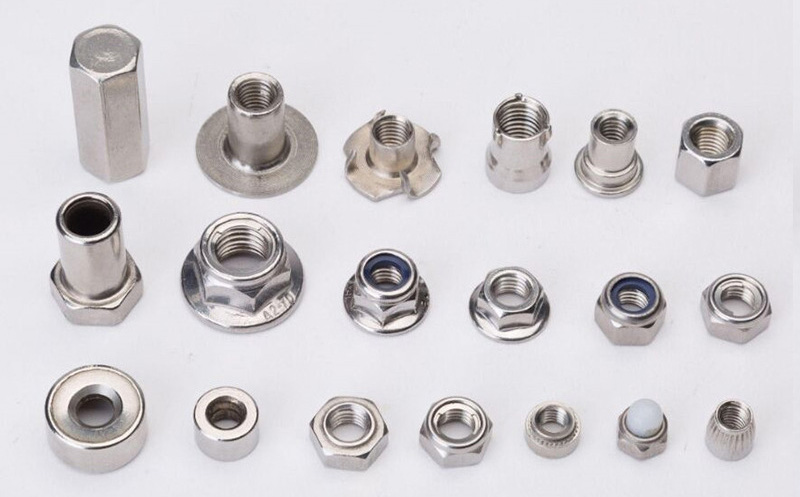 Nuts come in various sizes, shapes, materials, and thread patterns. With such a diverse range, it's essential to pick the correct fastener for your specific application. For example, Aluminium fasteners are valued for their excellent electrical and thermal conductivity while Titanium is favored for lightness, corrosion resistance, and strength.
The hexagonal nut is the most commonly used nut across industries.  That being said, there are other types of nuts, each suitable for specific applications and circumstances.
In this section, I'll tackle the different types of nuts, their standout characteristics, and their common applications.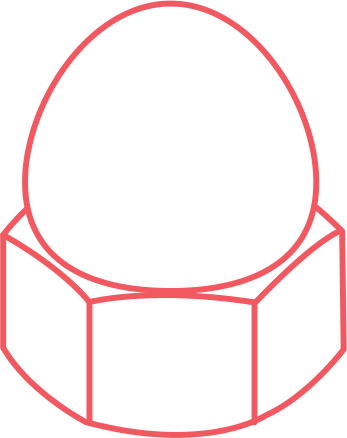 Acorn nuts are a type of cap nut. They get their name from the acorn-shaped cap at the top. 
Just like with any other cap nut, this head serves both a cosmetic and functional purpose. The acorn-shaped cap safeguards the bolt's end and creates an overall clean look. It also minimizes the risk of clothes snagging (getting caught) on the sharp edges. Acorn nuts are widely used across all industries.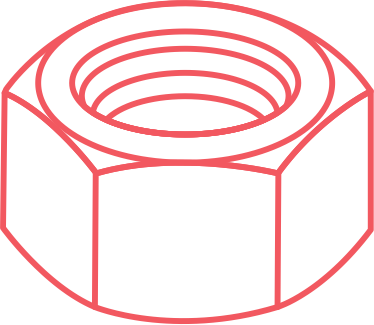 A hex nut is the most commonly used nut type across industries. It gets its name from its shape – it's six-sided or hexagonal-shaped. The hex nut is preferred since its shape makes it relatively easy to fasten and unfasten. 
There are different types of hex nuts, each with properties that set it apart. They include;
Hex Finish Nuts: A hex finish nut is a standard hex-shaped fastening device. It features a circular cross-section and internal threads. 

Structural Heavy Hex Nuts: As the name implies these nuts are heavier, thicker, and stronger than a standard hex nut. This property makes them ideal for applications that need an especially strong connection.   

Small Pattern Hex Nuts: These hex nuts simply have smaller dimensions. They are typically 20% narrower than standard nuts. The smaller size means that small pattern hex nuts are a great option for tight spaces where regular fasteners can't fit.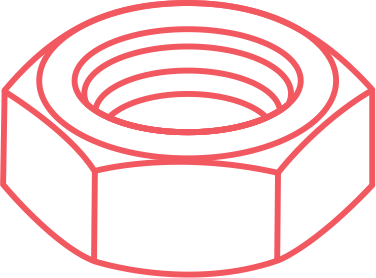 A jam nut is hex-shaped and it's usually half the size of a regular nut. It is usually "jammed" against a standard nut to secure it in place and prevent loosening. A jam nut is necessary if the regular nut keeps loosening or falling off.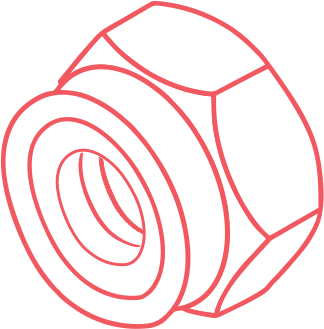 A lock nut is specially designed to withstand vibrations and torque without loosening. Therefore, this type of fastener will have a locking mechanism to ensure secure connections.
There are different types of lock nuts in the market. While they all utilize different locking mechanisms, they share a common goal of preventing loosening. Common types of lock nuts include;
Prevailing Torque Lock Nuts: Also known as stover nuts, prevailing torque nuts are equipped with a conical top. Distortion in the cone top provides its locking properties. 

Serrated Flange Lock Nut: As the name suggests, this nut comes fitted with a serrated flange. Upon tightening, the serrations create a locking action that prevents the nut from loosening or falling off. 

Castle Lock Nut: Also known as a castellated or slotted nut, this fastening device is designed with slots on one end. These slots provide an extra layer of security against loosening or unscrewing. Castellated nuts are popular in the automotive industry for applications such as securing wheels and bearings. 

Nylon Insert Lock Nut: The locking mechanism of this nut comprises a layer of nylon positioned within the threaded center. The nylon provides a stronger grip and prevents vibration-related loosening. The nylon insert lock nut is widely used when assembling computers and cars.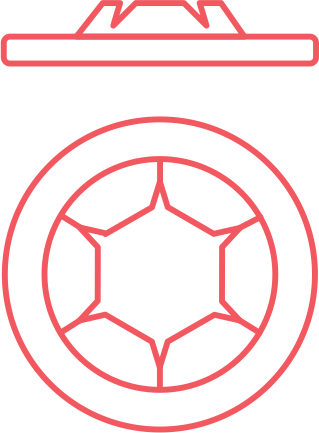 A push nut is simply "pushed on" to a bolt or shaft to secure it. This easy, sliding application process contributes to the popularity of the push nut. 
Conversely, push nuts are hard to remove since they're built to prevent loosening. They have a variety of applications ranging from medical equipment to kids' toys.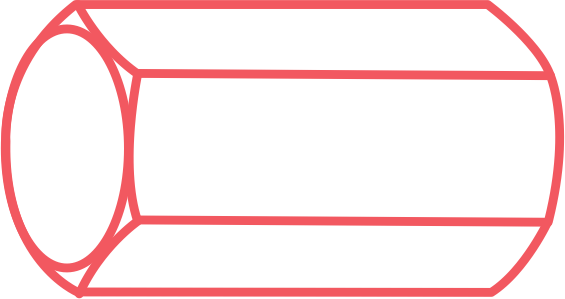 The coupling nut is not your typical bolt nut. It's used to connect two fittings that both have external male threads. As coupling nuts are not meant for bolts, they're typically longer than regular bolts.
Also known as extension nuts or rod coupling nuts, these fasteners are a go-to when linking threaded rods or pipes.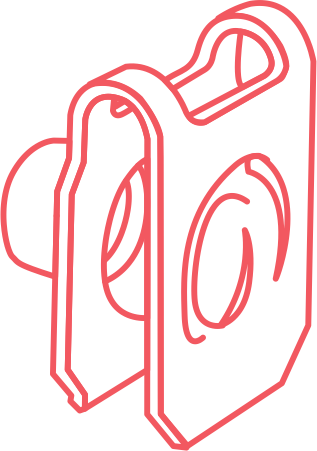 Speed nuts, aka sheet metal nuts or Tinnerman nuts, are clip-like fasteners that get their name from their quick and easy installation process. All you have to do is screw the nut onto the bolt without a wrench or any other specialized equipment. Speed nuts are commonplace in the automotive industry.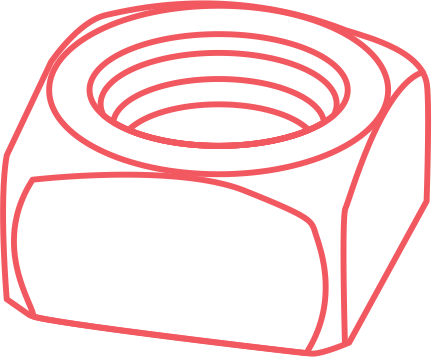 As the name implies, a square nut is 4-sided. Its square-like shape allows for greater surface contact area which translates to a stronger connection. A square nut is, therefore, less likely to loosen and slip off. This fastening hardware is mostly used with a square head bolt.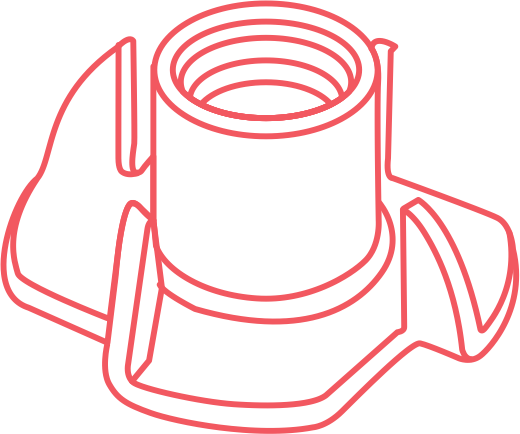 T-Nuts, also known as tee-nuts, resemble the letter T and have a pronged flange on one end. These hooks or prongs embed into the material being fastened to improve the joining capabilities of the nut. T-nuts are often used to secure materials such as wood or plastic. 
U-Nuts, alias spire nuts or chimney nuts, get their name from their U-shaped profile. These fasteners are time-saving and cost-efficient since they do not require any special tools to tighten. Spire nuts are used when connecting sheets of materials.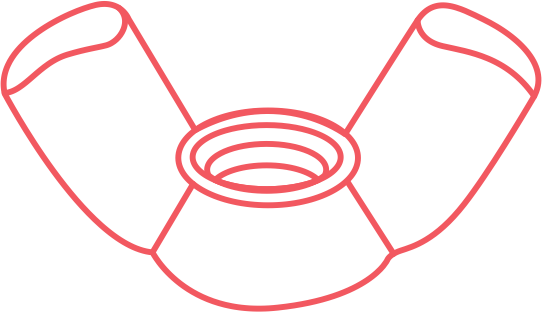 These internally-threaded nuts are equipped with wings on either side. The side wings allow for an effortless setup. Wing nuts are the perfect solution in situations where nuts need to be fastened or removed frequently. 
A bolt is a solid cylindrical fastener consisting of two parts: the bolt head and the shank. Most bolt heads consist of a hexagonal cap while the shank is a solid cylindrical threaded stem.
To secure parts, a bolt is usually inserted into a hole then a nut is tightened onto the bolt. The male or external threads on the bolt interact with the corresponding female threads on a nut to effectively prevent loosening.
Bolts are under tensile forces and tensile stress may lead to failure.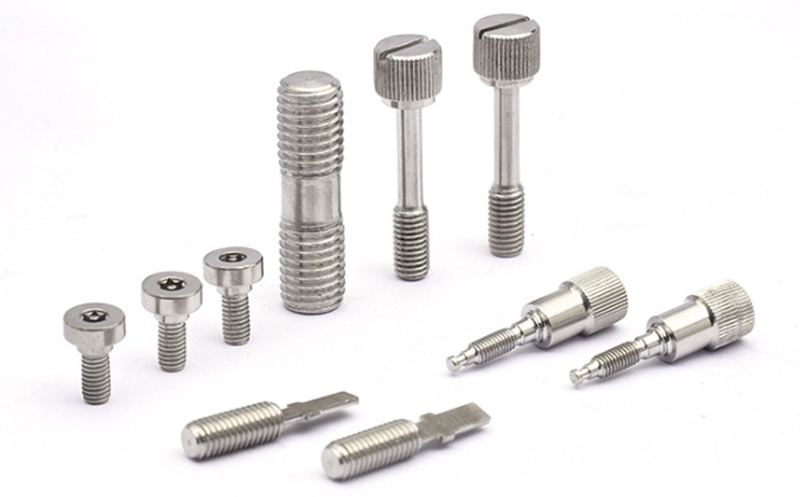 All bolts are similar in that they have external threads. However, that's where the similarities end. There are numerous types of bolts, each with distinct properties and applications.
For example, a toggle bolt is used to hang items such as shelving, TVs, pictures, or even plants from a drywall or ceiling. Conversely, a machine bolt is useful when securing two metal parts.
Let's explore the different types of commonly used bolts. I'll delve into their characteristics and common uses.

A carriage bolt is a self-locking bolt with a flush-mount domed head. Beneath the bolt head is a square section responsible for its self-locking capabilities. The square section embeds in a matching square cut in the part being joined. This aspect inhibits movement as the nut is screwed or unscrewed. 

An anchor bolt is a heavy-duty fastener consisting of two parts: a cylindrical threaded rod and an anchor. The anchor lodges into the surface of the material you're joining to create a strong grip while the threaded cylindrical trunk protrudes on the other end.
Anchor bolts are mainly used to secure structures to concrete. They are easy to use, and this makes them popular with both professionals and DIYers.

These fasteners are designed for joining components when access is limited to only one side. Blind bolts are quite strong and they are useful in applications where standard bolts are ineffective. 
Thanks to their ease of use and inspection, blind bolts are favored in construction and other applications with limited access. 

A double-ended bolt is also known as a stud bolt. This fastener is threaded on either end, hence the name. The threaded sections are separated by a plain solid cylindrical shank positioned at the center of the bolt.
Unlike most bolts, a stud bolt does not have a head. It is used to connect two parts together in a variety of industries including construction and automotive.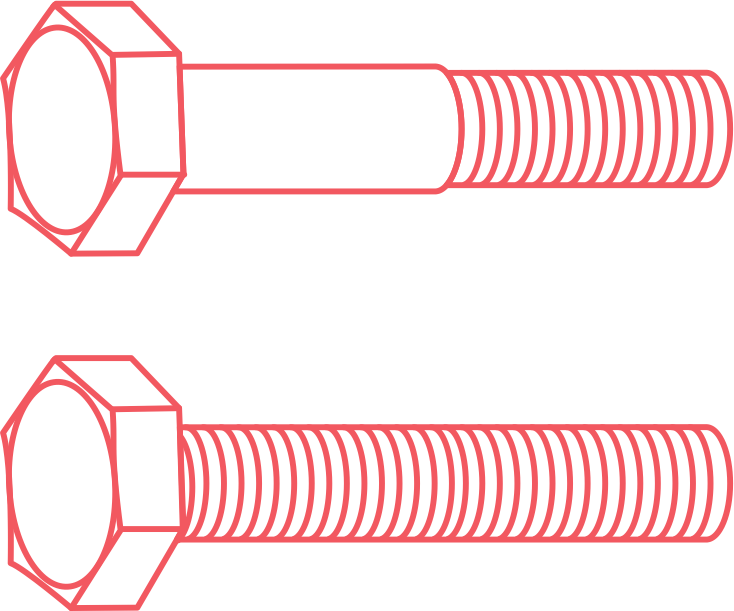 A hex bolt or hexagon bolt, features a hexagonal bolt head. As for the solid cylindrical part, it may be either fully threaded or only partially threaded.
A hexagon bolt is the most widely used bolt type with applications in almost all industries.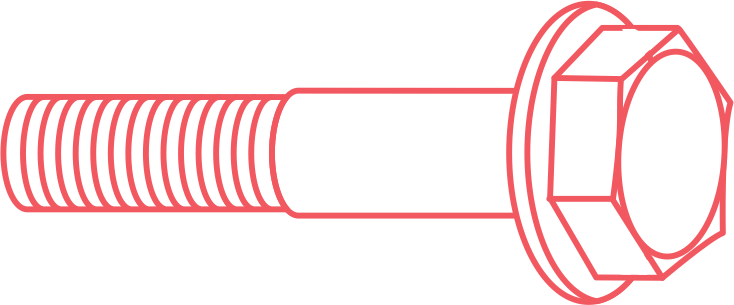 These threaded fasteners are equipped with a flange directly below the bolt head. The flange serves as a washer since it creates a larger surface area and spreads the clamping load. This, in turn, protects the integrity of the connection. 
A flange bolt has a range of plumbing, automotive, and mechanical applications.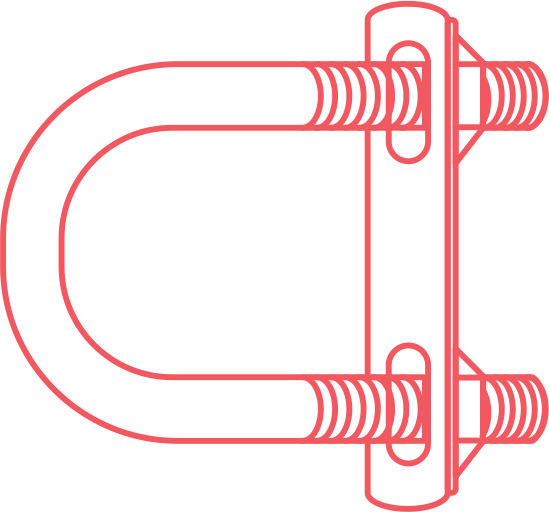 U-Bolts are shaped like the letter U, hence the name. Each end is threaded, and they either have a semi-circular or squared-off shape. 
U-Bolts are used in diverse industries ranging from plumbing to automotive.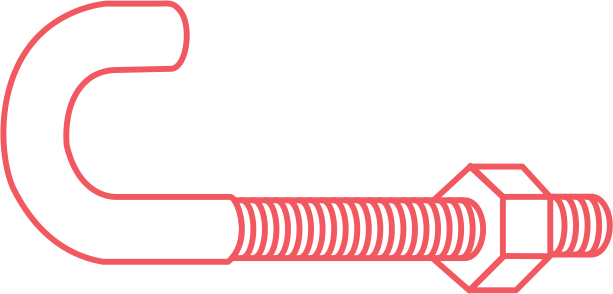 Also known as hook bolts, J-Bolts have a J-like profile. They provide secure connections in a variety of structural applications. For example, J-Bolts are used during roofing and when securing structures to concrete. 

Lag bolts are fastening devices best known for their exceptional strength. This feature means that they are an ideal fastener when connecting heavy materials.  
Just like their name suggests, specialty bolts are developed with a specific application in mind. Therefore, these bolts typically fulfill specific strength requirements or satisfy stipulated dimensions.
For instance, you can specify the diameter, head size, and desired thread size when purchasing specialty bolts. 
Since these fasteners are built for specific applications, they tend to be more effective compared to standard bolts.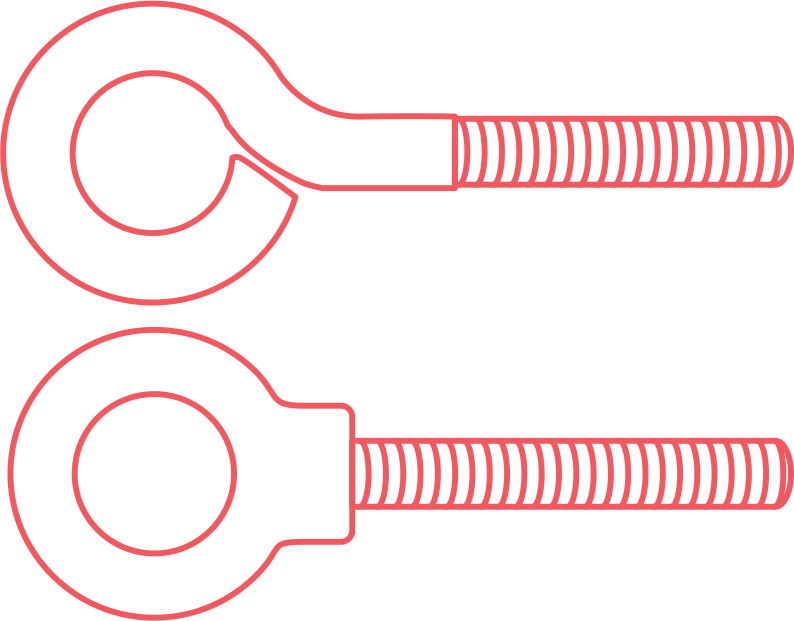 Eye bolts consist of a threaded shaft and an eye or ring on the other end. This eye can serve a range of purposes including lifting, anchoring, and pulling if ropes or cables are threaded through the feature.  
What is the difference between nuts and bolts?
Nuts and bolts are fastening hardware used together to secure two or more parts together. Due to their threaded nature, these fasteners mesh together to create secure connections.
While nuts and bolts are similar in this aspect, they are many differences between these two fasteners. This table sums up the differences between nuts and bolts.
| | |
| --- | --- |
| Nuts | Bolts |
| Nuts are hollow circular cylinders with a threaded hole in the center. | Bolts are fasteners consisting of a bolt head and a threaded cylindrical stem ahead. |
| They have internal threads, also known as female threads. | They have male or external threads |
| Nuts experience compression forces. The comprehensive stress may result in failure. | Bolts are under tensile forces. The tensile stress may cause the failure of the fasteners. |
| The different types of nuts include hex nut, coupling nut, flange nut, cap nut, square nut, slotted nut, jam lock nut, wing nut, push nut, T-Nut, and U-Nut. | The different types of bolts include flange bolt, eye bolt, hanger bolt, carriage bolt, shoulder bolt, anchor bolt, hex bolt, toggle bolt, lag bolt, and machine bolt. |
| They tend to be smaller in size. | Bolts are comparatively bigger. |
| Nuts are used with bolts to secure parts. | We use bolts together with nuts to connect multiple parts. |